The Real Junk Food Project Birmingham's Dads Lane Allotments
One of the aims of The Real Junk Food Project Birmingham (TRJFPB) is to try to end avoidable food waste. TRJFPB does a lot of amazing work across the city and beyond in intercepting edible food that would go to waste and get it to people who want food. We do this through Cafes, Sharehouses and other avenues. This is extremely worthwhile and challenges the orthodoxy of our food production supply. Built into our global food production system is tonnes and tonnes of food that knowingly won't be sold. It will end up in landfill.
Another aspect of our food production system that needs overhauling is what we produce ourselves. As a country we do not grow enough food, we don't eat seasonally enough, and we don't think enough about where our food comes from. TRJFPB does great things and challenges the system of food production, but we don't do much in terms of producing our own food. We have supported existing projects. We've done little bits here and there, but it's never been a primary focus of the project. In an exciting development for the project, we recently took over an allotment plot in between Stirchley and Kings Heath on Dads Lane. This plot has been dubbed "The People's Plot" by mainstay TRJFPB volunteer Dibah.
Checking out the Plot
From what I've been told, the allotment had been left in a state of disrepair for a significant amount of time. TRJFPB have taken on Rob Tilling to work on the allotment to get it going. Rob has a vast amount of experience of community gardening. We've had the allotment for a few weeks. I finally was able to visit the plot last Thursday. It was a sunny and hot day. I cycled down to the site, where I was greeted by Rob. Our plot was towards the back of the site. There were about 8 bikes on our plot, which I thought was fantastic. I left my bike with the others and checked out the plot. It was much bigger than I expected. A lot of work had already been done by Rob and a small group of socially distanced volunteers. Rob gave me a tour of the plot. Some of it had been cleared and planting had begun, including the planting of pumpkins. I was told that the plot was completely overgrown with brambles. Some of the plot was cleared and the plot was being prepared for planting. There was still much to be cleared at the back of the site and work will continue to clear it.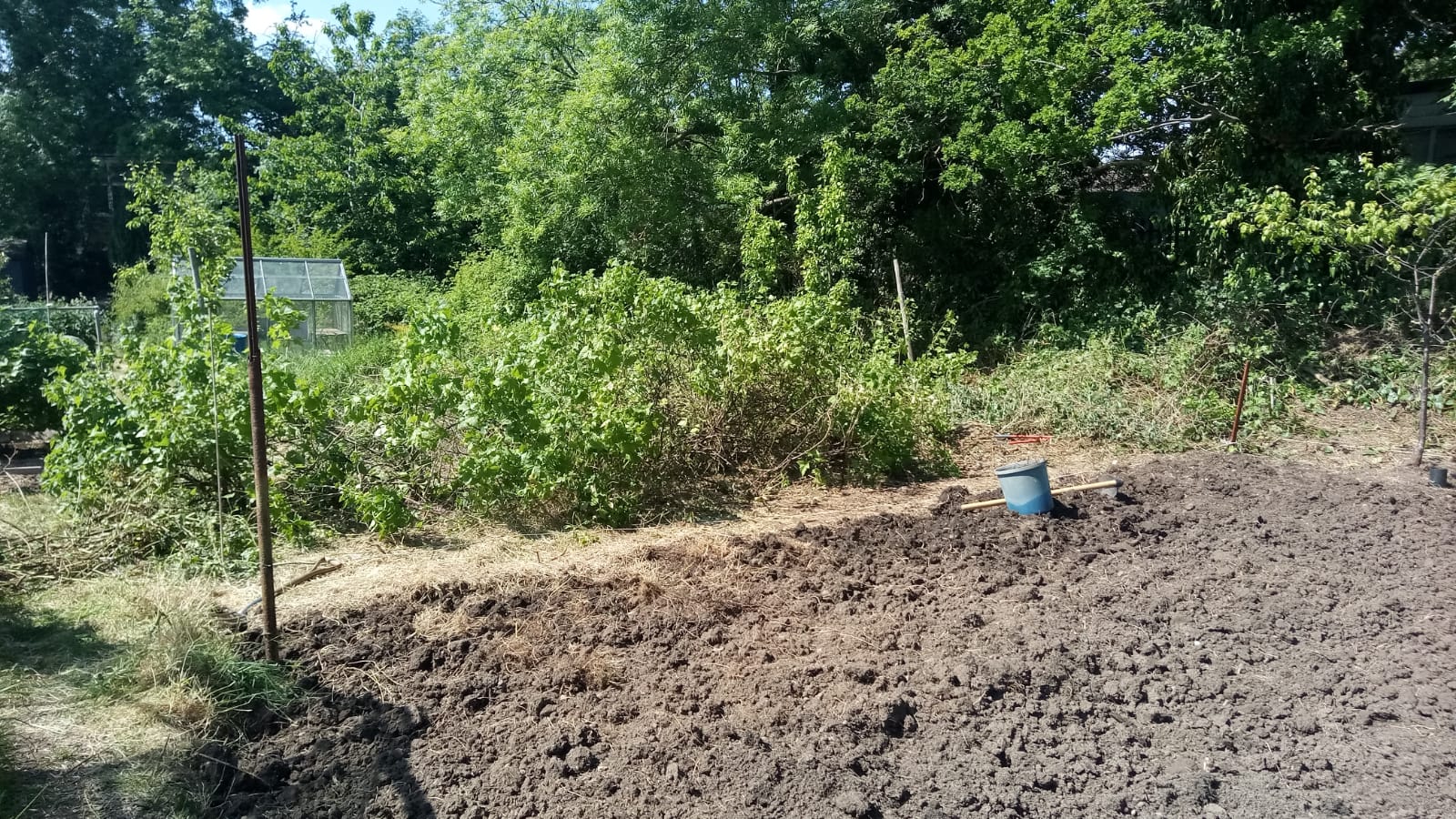 Making friends whilst working on the plot
I got to work by helping a man named Steve. He was clearing brambles on the plot. I raked, cut and piled up brambles that he was clearing. We had a good chat about many different things. He had done a biochemistry degree but ended up working as a psychiatric nurse. We talked for a long period of time. The one thing that we agreed to disagree on was our thoughts on Wetherspoons. One of the under appreciated benefits of having community spaces like this are that it brings together people who would not normally socialise. I am not likely to meet Steve in other walks of life. In this plot, we work together to achieve a shared aim. I live on my own and the person I speak to most at the moment is my piano teacher over Zoom. Having a community space where I can socially distance, whilst talking to people can be important for people who are isolated. As an unexpected bonus Dads Lane has a resident cat. A bonus cat is always welcome.
Our future
I am incredibly excited about the development of "The People's Plot." I hope to volunteer on it again and watch how it develops and grows. We hope that once growing begins, we can have some of the food go towards our cafes. A small group of socially distanced volunteers, coupled with Rob's expertise will mean that "The People's Plot" will have a productive future for the local community. We hope that food grown here will end up in the Kings Heath Café, which is about a mile from the allotment.