The Second Black Lives Matter Protest
On the 19th of June the second Black Lives Matter protest took place in Birmingham City Centre. Unlike the first protest, which took place in Centenary Square, the second protest happened in the smaller Victoria Square. Protests in Birmingham City Centre are usually. situated in Victoria Square. I've previously blogged about the first Birmingham protest.
Police Officers taking a knee
When I arrived at Victoria Square I was surprised to see a few police officers taking the knee. I tweeted a photo about this and the officers were criticised. On the other hand I think it is a good thing to do. There is no doubt that the police are institutionally racist. Inquiries have said that, recommendations have been made and ignored, but individual officers are not automatically racist. When they are all white and have networks that protect them from accountability, racism and police brutality is allowed to happen without recourse. We need our police to be representative of our local communities. Our police officers need to understand the needs of our communities to be able to empathise. I was pleased to see the West Midlands Please are actively seeking to recruit Black and Ethnic Minority police officers.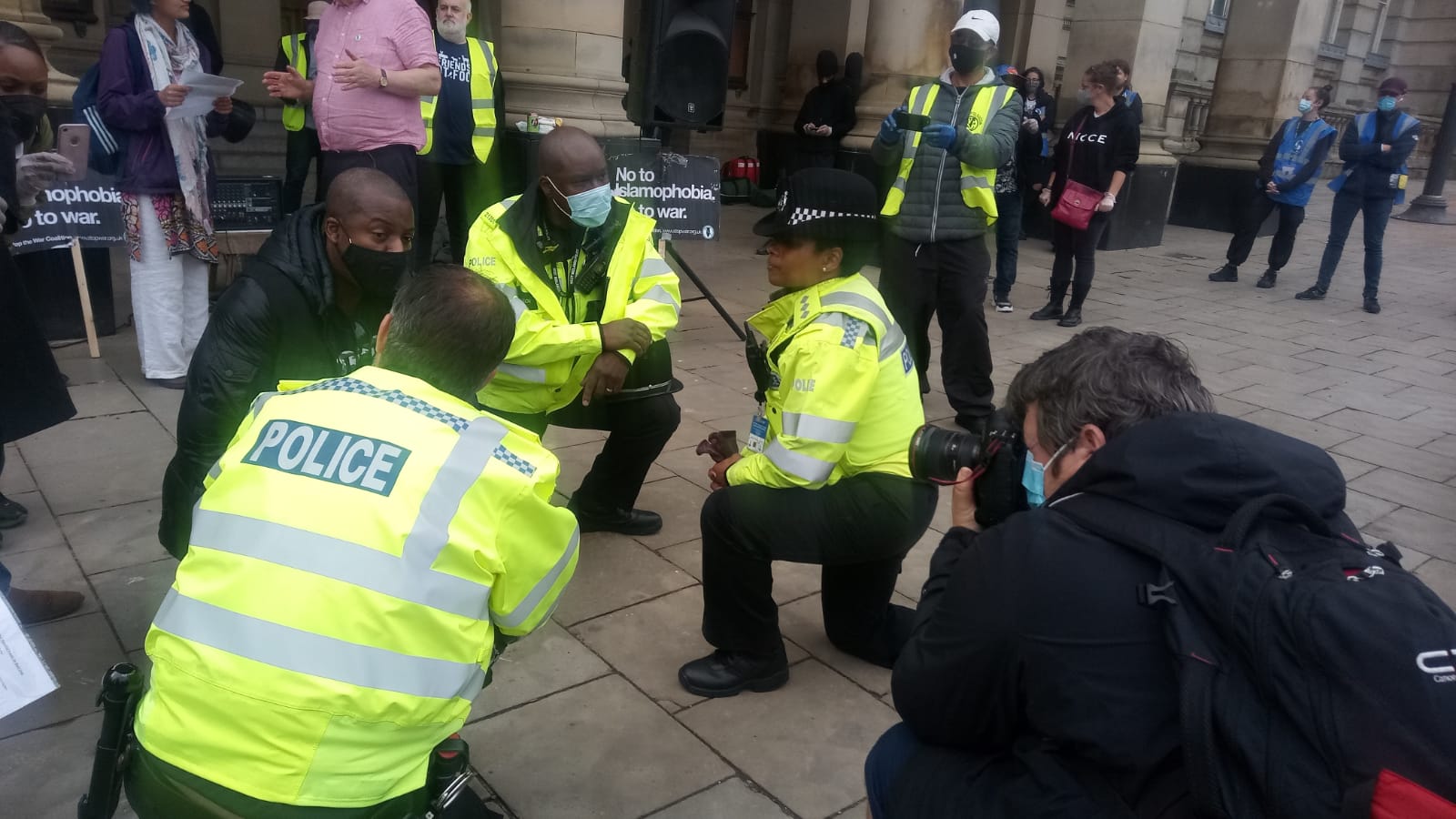 The demonstration begins
The protest itself began with some drumming along with a few chants from the organisers. A lead protestor taught us a couple of African protest phrases, which we repeated back to her on command. We also had a repeated chant along to the chorus of One Love by Bob Marley. In another change of direction from the first demonstration, the second had a whole host of speakers, who spoke of their experiences.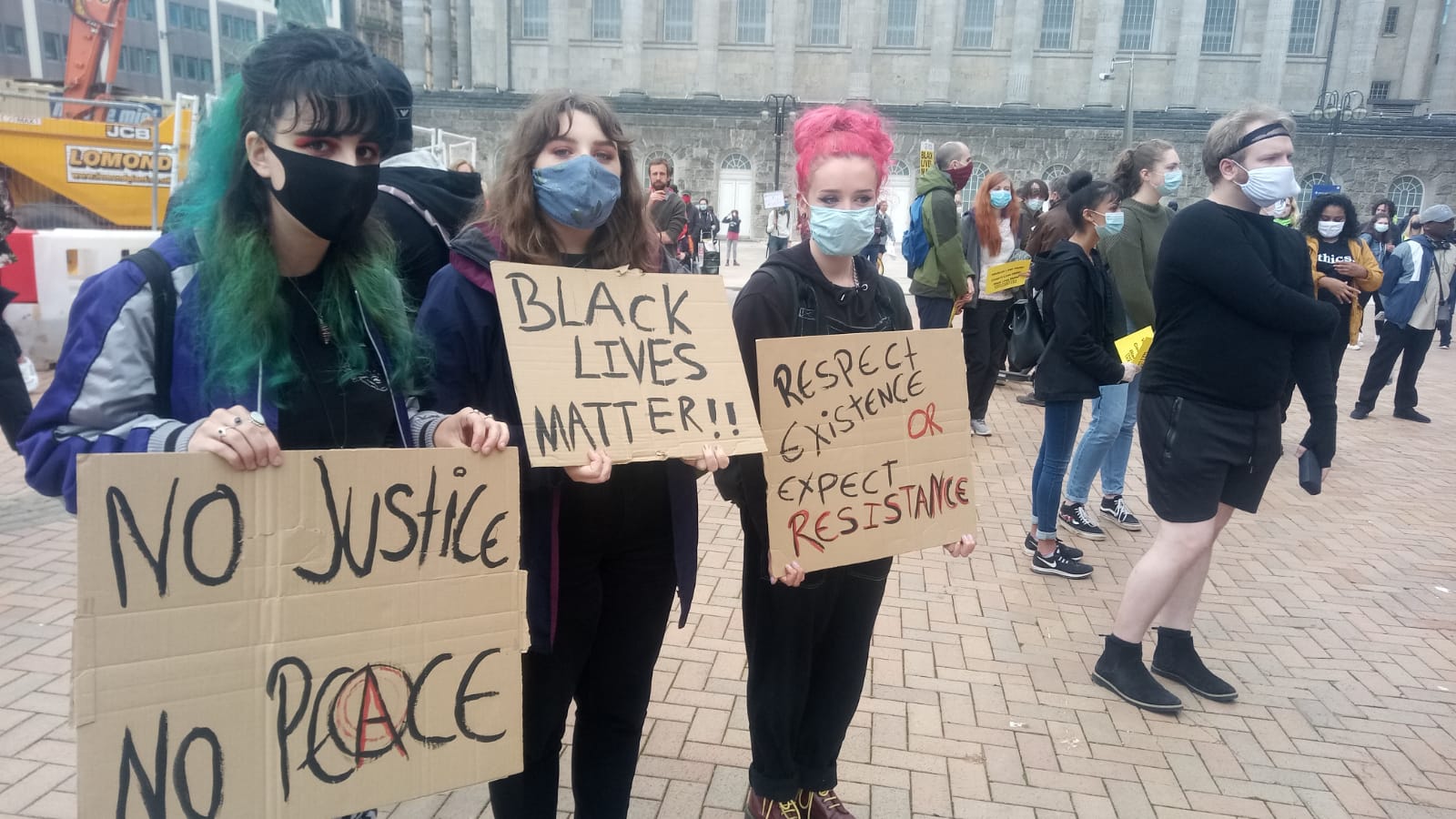 Seeking justice
The most powerful speeches were from those related to black men who had been murdered without receiving justice. Julian Webster was killed by a white bouncer who held him in a headlock until he died in 2009 outside of a nightclub in Manchester. The police did not charge the bouncer and he has never be brought to justice. Webster's family took the case to the High Court, won and still the man who killed Julian Webster has not been brought to trial. Seeing the pain in Sonia Webster's eyes as she revealed his story was harrowing. Her son did not need to die. The man that killed him should face justice. The police system did not value the life of a black man.
Kingsley Burrell died whilst in police custody after being sectioned. Kingsley had called the police to seek help and ending up dying in suspicious circumstances. The officer who was the reason for his death was fired but faced no criminal proceedings. Again justice has been denied to the family of another black man. His sister, Kadeisha Burrel rallied passionately about the events that led to Kingsley's death and the lack of justice that followed. If you called the police for help do you think that 48 hours later you would be dead?
Simeon Francis died in police custody in May this year. A video of him being restrained using excessive force was found from July 2019. Bishop Desmond Jaddoo told us about Simeon's case and the search for justice for Simeon. Black men are routinely killed in suspicious circumstances. Those that commit these crimes are not held to account and do not face justice.
Salma Yaqoob also spoke, she talked about Islamophobia and how British Asians have been tarnished as terrorists after 9/11. She shared the fear that other speakers had about the safety of their children. When they leave the house, will they be stop and searched? Will they suffer from police brutality? Salma spoke of how British Asians have to act in a non-threatening way to avoid being seen as a terrorist, which is something I can relate to.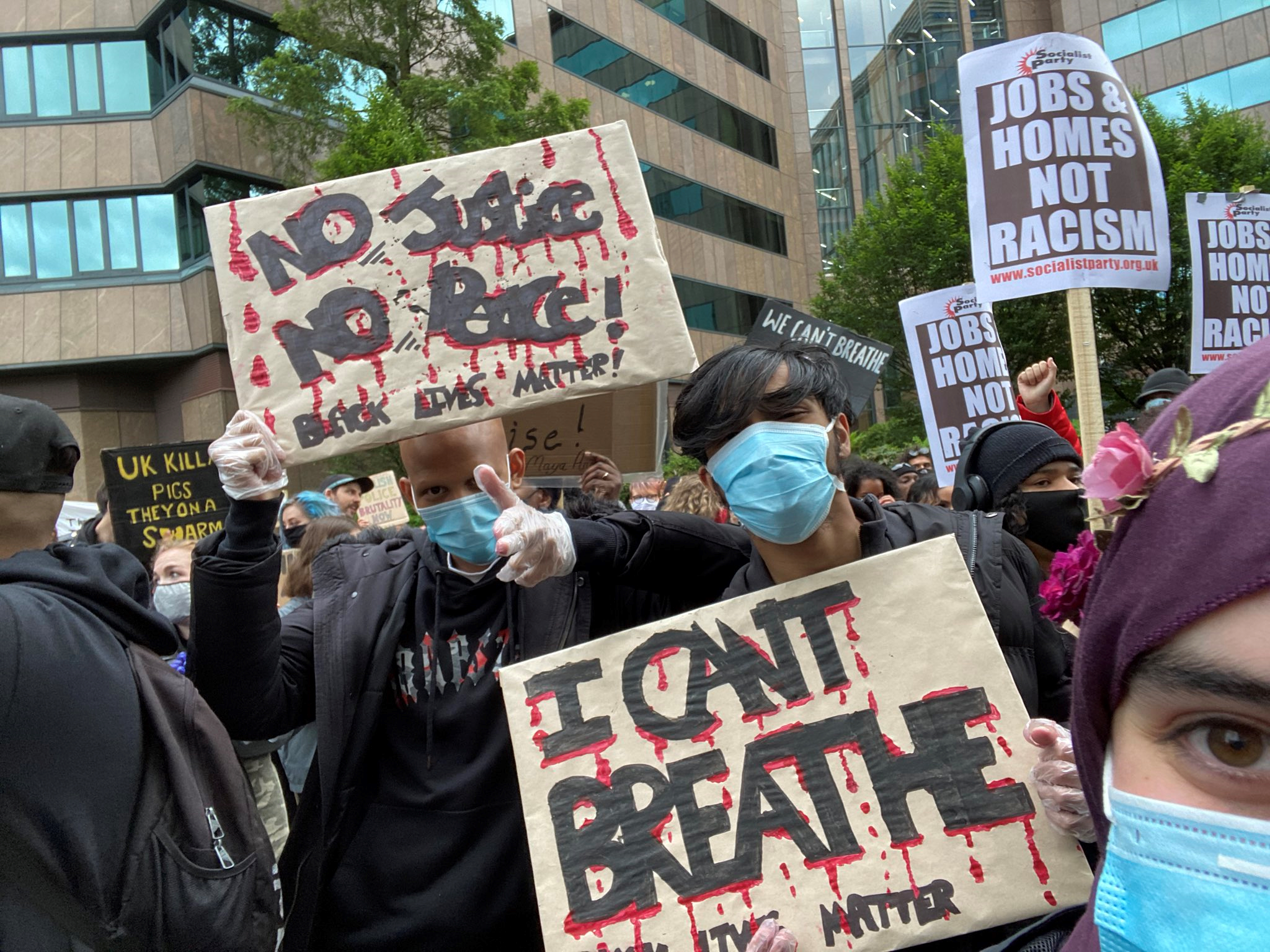 Covid 19 and the Black community
Other speakers spoke on different issues. One speaker mentioned Covid 19 and how Black and Ethnic Minorities are dying disproportionately higher than their white counterparts, partly through deprivation and partly through racism where the minority communities are more likely to not get PPE. They are more likely to be forced to work in unsafe conditions for less money than their white counterparts. Black and Ethnic Minorities are being treated as disposable fodder. There is a report that has recommendations to protect Black and Ethnic Minority people who are deemed high risk. We want the recommendations to be implemented.
Remembering George Floyd
After the speakers finished we as a collective took a knee and chanted "take your knee of my neck" nine times in an act of symbolism, because George Floyd had his neck crushed by Derek Chauvin for 8 minutes and 46 seconds. Each speaker carolled the protesters into chants, including "No justice no peace", and "Who are the murderers, the police are the murderers!" Bishop Desmond Jaddoo said that they were launching a "We Matter Campaign" and gave out fifty T shirts for a donation to those that wanted them. I don't know how this campaign will intersect with the Black Lives Matter Campaign, but I assume it will seek to work with the existing Black Lives Matter campaign.
The protest leaves Victoria Square
To end the protest, the protest became mobile. A march down New Street was the next event. I left the protest at this point to get on my bicycle to go home. Protestors carried on to Lloyd House, which is the home of the West Midlands Police and blocked the road.
This protest may have been smaller than the first, but felt more structured. Reports of upwards of 500 people attending this protest compared to 4000 in the first. There were speakers who had specific issues to talk about and calls to action moving forward. We were told to join groups like Trade Unions and keep campaigning. Equality won't happen overnight, we need to keep striving for it. Momentum for the cause is crucial. We are not going to give up this fight.
Black Lives Matter!
Here is the Birmingham BLM GoFundMe and the UK BLM GoFundMe
Some of the photos featured were from @khodshjkf , @zaryabbaigx and @mervfidan