PURE Electric's Store Manager Tom Burnett was kind enough to answer my questions on E Bikes this week. He was also kind enough to let me test ride an E Bike. I wanted to see how the E Bike riding experience differs from a regular bicycle. I asked Tom to let me borrow their go to commuter E Bike. He pointed me to a Raleigh Centros GT Cross Bar, which has a Bosch engine. I didn't realise that Bosch were in the E bikes market, but Tom said that they are one of the most trusted brands in this sector and have been in it since the start of E bikes.
First Impressions
The E bike was all black, had a pannier and looked incredibly sturdy. Tom lowered the saddle for a more comfortable riding position. My first thought was that this E Bike felt like a town Bike. It has a wide saddle and an upright seating position with wide handlebars. There were only nine gears. All it was missing was a step through frame. It had a display that told you the speed, the time and what engine setting you were in.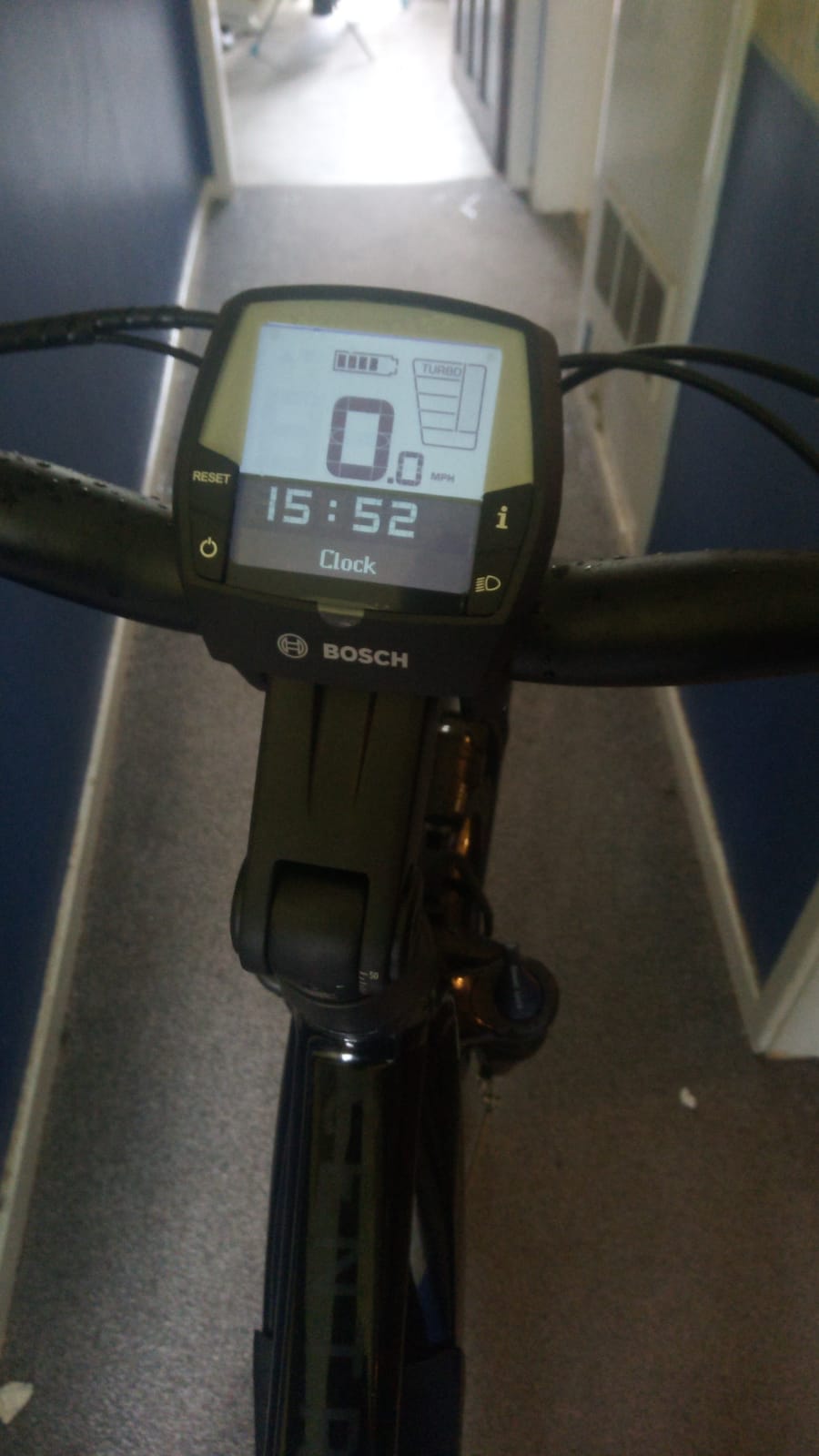 Sitting on the E Bike was very comfortable. I walked with the Raleigh and tried to leave the shop. That is when it dawned on my about how heavy the bike is, 26.5 KG's to be precise. I used to lift that kind of weight in the gym, under controlled conditions, but never trying to lift an E bicycle over a shop step.
Once outside I got on the E Bike and started to ride it. The town bike comparison still rung true. The Raleigh bike was still comfortable to sit on and ride. As I started riding the pedal assist motor kicked in and made the ride easier. There were quite a few different settings for the motor from eco to turbo. After about ten minutes of getting used to the engine I stuck to the turbo setting. Gear wise, I put in in a highish gear as I still wanted to have to put some effort into pedalling.
My usual cycle route
I wanted to cycle the route which I do consistently. That route being from my house to Birmingham City Centre. I live on the edge of South West Birmingham, in West Heath. My cycle in is either a meandering route on the Rea Valley Cycle Route or a much more direct route on the A38 through Northfield and Selly Oak. For the purpose of this test ride I chose to cycle the direct route. The A38 from Longbridge to Selly Oak is a main road fight with motor traffic, whilst from Selly Oak to town is a leisurely, joyous blue route. The Blue route is mostly segregated from motor traffic.  The two sections are vastly different riding experiences meaning that I could experience the E Bike in varied surroundings.
The Blue A38 Route
On the blue route from town the E bike handled well. A town bike is well suited for a leisurely ride on a segregated path. I had no dramas. As the blue path is not as hilly as the second section of my journey, I felt that this is the terrain where I would expect a town bike to excel. For this kind of section I felt that having the motor of an E bike is not necessary. It felt similar to when I first cycled on an E bike in San Sebastian. The E bikes were hire bikes that were to be used on flat and segregated paths. I presume that the reason for having E bikes for this situation is because San Sebastian is like the Bournemouth of the Basque Country/ Northern Spain, with a higher percentage of elderly residents who would appreciate the help of an E Bike. Something unexpected that I found was that the engine did not want me going over 15 mph. Even If I cycled as hard as I could on the flat, I could just about get to 16 miles per hour. Downhill I could go as fast as I could on a conventional bike. What this does mean is that if you are in a rush and need to get somewhere in as fast a time as possible, this is not possible on this E Bike, unless your journey is all downhill and then you don't need the motor anyway.
The (easier) fight from Selly Oak to home
Now in stark contrast, the E bike was absolutely wonderful on the second part of my journey on the A38. From Selly Oak to Longbridge, there are two significant hills. In parts there are painted white line cycle lanes. I am used to cycling this route, but for somebody who is not used to it, I think it would be terrifying. Because the white lines of the cycle path suggest that no extra space is needed by cars to overtake, cars regularly overtake too close to the cyclist.
As well as the white lines, there are often cars parked outside of the Orthopaedic Hospital that I have to cycle around. For the moment there are heavy road works to navigate on the edge of Selly Oak away from town. Predictably what the motor on the E bike does is allow for a faster push off and a more consistent cycling pace. Without an engine I'd be putting maximum effort into getting up the hill, but with the E Bike I could maintain the speed without overly exerting myself. I could maintain a closer speed to the rest of the traffic then on my bicycles. Going up the hills I felt safer than I do on my bikes. I could not cycle 15 MPH on the steep hills on my bikes but I could with the E Bike.
I stopped off at home to make some notes, had some lunch and attempted to dry myself off. The BBC website said that there would be light rain. There definition of light rain is completely different to mine. After I dried myself and changed clothes I cycled back to town, remembering the importance of having a good waterproof jacket. The cycle on the E bike took about 40 minutes, which is about ten minutes faster than on my pushbike.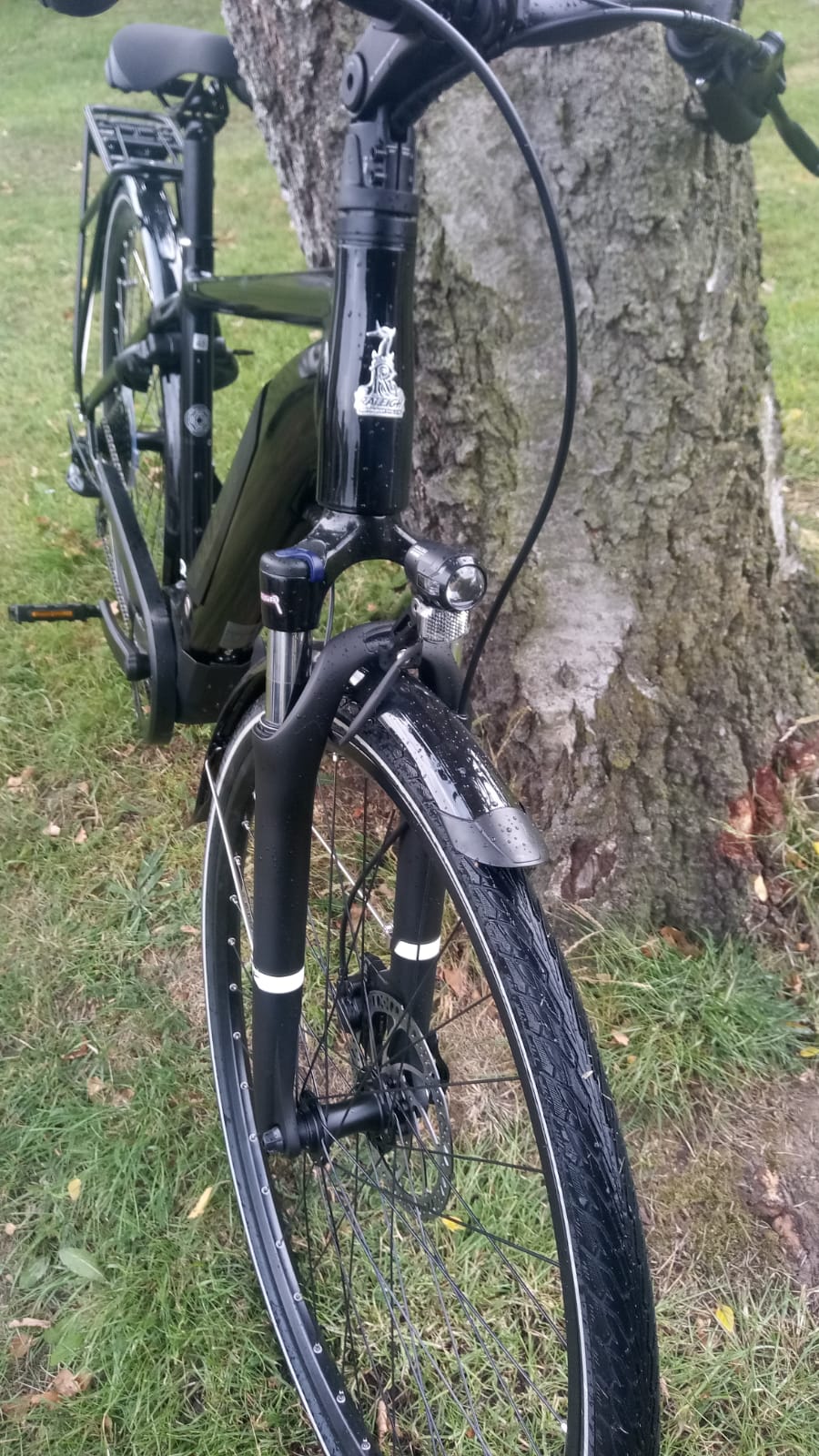 Overall thoughts; E bikes are a viable alternative to the car
My cycle back to the city centre was similar to my first journey. On the hilly roads where I was fighting with traffic, the E bike was wonderful. On the mostly flat and segregated route the E Bike felt a bit unnecessary. In total my combined journeys were probably between 16-18 miles. I'm used to cycling these kinds of distances in a day, but I understand that many people won't be. Where I think E Bikes are truly valuable and can be game changers are for longer commutes. I don't work in the city centre, but if I did and was to commute this route five times a week then an E bike would be warranted. Maybe I'd cycle 2-3 days on a regular bike and the other days on an E Bike. From this experience, I feel that E bikes are wonderful for cycling in a consistent and controlled manner for longer journeys. If your commute is a mile or two than an E Bike is probably not needed, but if it is over 5 miles one way than an E bike can be a viable alternative to a car. I did test ride a top of the range E Bike, that costs nearly £3000. This is a lot of money for a bicycle. I tested a high quality, premium E Bike. Compared to a car, even an E bike at this price range would be much cheaper over a year or two to commute on, when you consider petrol, insurance, vehicle excise duty that you must pay for running a car. Of course, cheaper E bikes are available, but if you are currently driving to work and want a high quality and reliable alternative that would save you money in the long term than I'd recommend an E bike like the Raleigh Centros GT Cross Bar.
A massive thank you to Tom Burnett from PURE Electric for allowing me to test ride one of their E bikes. If are interested in purchasing an E bike I'd recommend giving them a visit. They would tailor their advice to your specific needs. For example, this bike is very heavy. If I lived in a first floor flat like I used to there is no way that I could reasonably drag this Raleigh bike upstairs, but Tom and his team can suggest an alternative bike that would be better for you and your stairs.