I own two different types of bikes. I thought I'd write about how riding each of them affects my cycling experience.
Hybrid Dawes bike
After learning to ride a bike I bought a cheap second hand mountain bike. It was hard work to cycle and I got two punctures almost immediately. When the second puncture happened I abandoned the bike at Cannon Hill Park. From this I learned an important lesson that I should get a bike that is suited to my needs. At the time I lived near Digbeth so went to my local bike shop Sprockets where I had a bike fitting. The bike I bought was ideal for what I wanted. A comfortable bike that could do with roads and surfaces like the canals in Birmingham. In addition, I also was given advice about what else I needed, including buying a good D lock with cable, lights, mudguards, track pump and a bell. These are all important accessories that I'd need.My hybrid has been good to me. It is comfortable to ride. Can be used on roads, canals and some uneven surfaces. The Dawes has suspension, which makes absorb bumps and potholes quite well. Switching between roads, paths and canals is easy on my Dawes.
Giant Road Bike
One day I was in the Bike Foundry in Stirchley when I saw a Road Bike, a second hand Giant bike, which was on sale for £150. This was the most expensive bike that I've seen in this Co-op by far. An equivalent brand new bike would have been far more than £500. Possibly around £700-£800. Once a test rode of the Giant bike I knew that I had to buy the bike. Riding the Giant bike was a completely different experience to my Dawes Hybrid. For starters the seated position is different. The dropped handlebars mean that you are leaning over on the bike. It takes some getting used to. My second bike was also a lot lighter than the Hybrid. Initially, I had back ache after riding the Giant bike.  Eventually I got used to the different riding position. My Giant Bike is designed to ride on roads, at speed. I took my new bike to On yer Bike in Digbeth and got it accessorised. I had SPD pedals installed and bought cleats. Of course I fell over several times forgetting to unclip the cleats, when stopping. Comedy Gold!
My Giant Bike became my default bike as I used it to get about Birmingham. I still lived near the city centre at this time, meaning that getting anywhere by bike was often fastest by Bike. The Giant Road bike, is fast, light and nimble. On the other hand my road bike can't be used on the canals or non smooth paths and bumps are felt a lot more. For longer distances and hills, the Giant bike is better.
Change of location
When I moved from the city centre to the edge of Birmingham, my cycling habits changed. For travelling longer distances I tended to use the bus or train or when I travelled locally I used my Hybrid Bike as it was more comfortable to ride. Having good public transport nearby meant that I didn't cycle 3 mile plus journeys anywhere near as much as I used to. Cycling became more about when I went to the shops or cycling to friends who lived close by. The Giant Bike went mostly unused, sitting as decoration in my kitchen. However, my Hybrid bike got a puncture. Rather than do the sensible thing and repair or replace the inner tube of the punctured tyre, I did the lazy thing of switching bikes to the Giant Road bike. My Giant bike became default. Around this time Covid occurred and I had more time during furlough to cycle. In this time I used it as an opportunity to cycle more. For a few months I was cycling for leisure nearly everyday. Doing my shopping via bicycle changed my shopping habits. Rather than doing a big shop in one journey. I was cycling to my local Central England Co-op in Northfield three times a week. I'd wobble home with my shopping bags on the handlebars and on my back.
Consciously making more effort to cycle
Going back to work full time stopped my almost daily cycling. Public transport was meant to be for essential journeys only thus my bicycle remained my choice of transport for when I was not driving for work. For the past year I've tried to make a conscious effort to cycle or walk as a default choice for utility journeys like going to the local shops. Recently, I took advantage of the Government Bike repair voucher scheme to get the puncture fixed on my Dawes Hybrid bike as well as a few other repairs at Northfield Cycles. Whilst I was there I took the opportunity to have the mudguard replaced with a pannier rack that I paid for myself. A pannier rack is great because I no longer have to carry bags of shopping on my handlebars. No more wobbling with bags on my handlebars!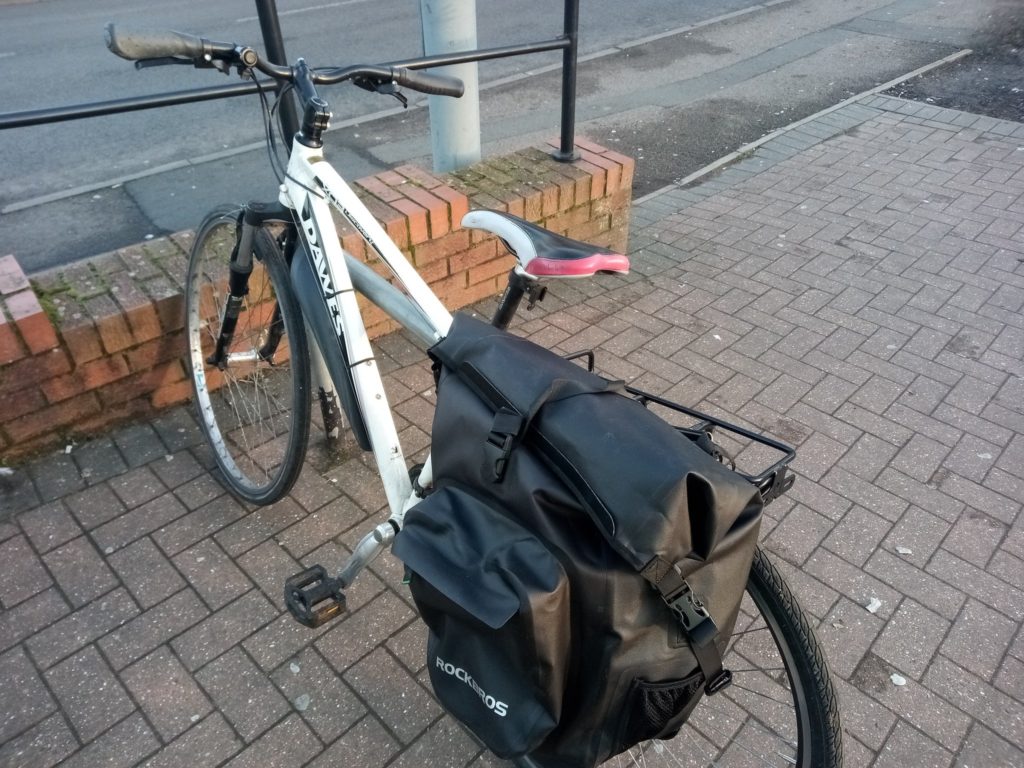 Even when I cycle the same route, the choice of bike affects the journey. On my hybrid, I take my time and leisurely cycle to my destination. On the road bike, I frantically try to keep up with other road users, including cars. The road bike is better for my fitness, where as the hybrid bike is better for an enjoyable journey. For example, I often cycle from West Heath to Kings Heath. If I take the road bike, it is 5-10 minutes quicker than taking the hybrid bike. The route I take involves several steep hills. The hybrid is better for a more casual journey. It also allows me to take non road routes, like the Rea Valley route.
Whichever bike I use, the most important thing is that I keep on cycling and you should too!