Ruth Cumming is a Mum, small business owner and blogger who has recently sold her car. I asked her about her experiences of car ownership, why her family ultimately sold their car and suitable alternatives to car ownership.
Our Cycling History
As a child, for me cycling was a leisure activity. It's something I did at the park or when we took our bikes with us on the car on camping holidays. My husband also did leisure cycling as a child, but as a teen he found his bike was a great way to get around independently. By the time we met at university in Nottingham, he had brought his bike with him to use for transport, and I didn't even consider I'd need to take my bike to uni. A year after graduating we moved to Cambridge where I did postgraduate studies. Lots of people cycle in the city, and for the first time I decided to use a bike for transport – it's how we got around, to work, to shops, to lots of other places. When I was pregnant with my eldest and second children, I was really sick, so I didn't cycle much for a few years (I walked a lot and sometimes got the bus). We were just about to buy a box cargo bike when our second child was 9 months old, when my husband got a job in Birmingham and we moved away. At that point I didn't think I could get a box cargo bike up the hills here (Cambridge is flat), and electric bike technology wasn't as widely available as it is today on these bikes. I went back to biking for leisure with the kids, although my husband did a combination of walking and cycling for his commute. After a few years we had twins, and when they were a year old we got a double bike trailer for them. At first it meant we could go on longer leisure rides with our older children, but then I felt that I could start using our family bikes set up for some daily life transport too. But as we ventured further and the twins got heavier, I found the trailer set up really hard work on my knees when going up hills. We then found out that e-assist technology was more widespread by now in cargo bikes, and we bought a longtail electric cargo bike which would fit the twins on the back. Shortly after that the first Covid lockdown happened, and we went on a lot of family bike rides for exercise – we were so glad we'd got the ebike because it really allowed us to do so much cycling at that time. ! These days our children tend to see cycling primarily as a means of transport too, and they are less bothered about going for a ride just for the ride's sake, unless there's a destination that has an appeal.
Experiences of Car Ownership
I was given a small second hand car for my 19th birthday (I got my licence at 17 years old). I then owned a few other second hand cars over the years – they each got a bit bigger than the last as our family grew. We sold the last one in January 2021, so that's 18 years of car ownership. My main uses for a car have been for getting out of town, in the 3 cities that I've lived in with one. Whilst living in Birmingham we mainly used the car for day trips to rural places, and for visiting our extended family who all live dozens to hundreds of miles away. It was also useful for some trips within town in which we needed to carry a large object (for example a great set of bunk beds that we got on freecycle!), or when the twins were little and trying to fit baby/toddler groups around feeds, naps, school hours, clubs etc. meant sometimes the car was useful when walking would take too long.
The downsides of car ownership and ultimately selling our car
Our usage of a car as a family has always been very light, and at each point of changing cars to a bigger one we considered the pros and cons of not owning one. But we always came down on the side that we used it just enough to justify buying one, particularly because we only got pretty cheap second hand ones. The main cons that we identified of owning one, and therefore why we might not want one, were: the hassle of making sure it's taxed, insured, MOTed etc. at the right time each year and the associated costs; the fact it might need (expensive) repairs at the drop of a hat; the need to store it somewhere (either rent/buy a flat/house with parking space or have hassle of on street parking); the carbon emissions and energy usage related to private car ownership and travel and what that means for the environment; the pollution that we created when using a car even if not that much.
The main reasons why we decided to sell the car when we did were: it needed a really expensive repair that was disproportionately more expensive than the car was worth; our kids are getting older, and we feel more confident about travelling further afield with 4 of them on public transport; we have invested in a cargo bike that lets us travel a decent distance as a family on bikes; there is more segregated cycle infrastructure in Birmingham now than there was when we moved here, particularly the A38 blue route which we use extensively, which means the children can cycle themselves too.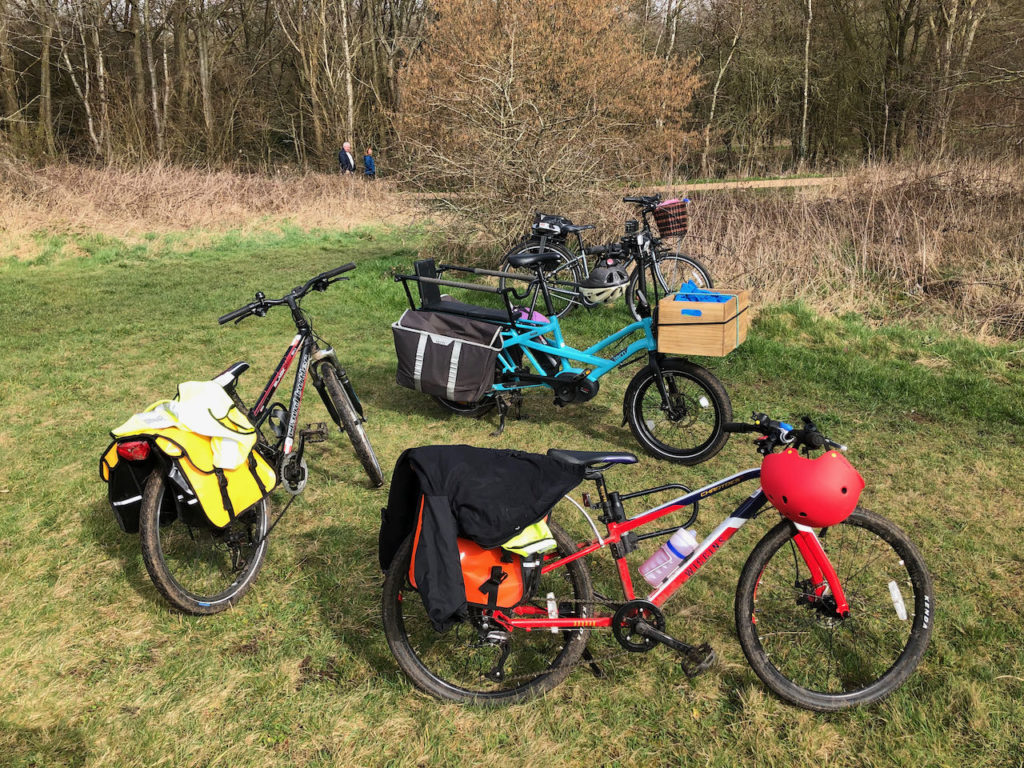 Living without a car
So far it's been easy, and that is mostly down to the fact our lives have been heavily restricted. As we are gradually coming out of lockdown, we are thinking about our future as a car free family. We need to book train tickets to go to see my in laws who live in Devon this summer. We are planning to spend an afternoon with my parents in their garden soon, and we will get the train for this too. Our 8 year old has an activity afternoon out in a rural location for a friend's birthday in May, so we are contemplating whether my husband will cycle him on the cargo bike or whether we will hire a CoWheels car club car for a few hours. Otherwise nothing has come up that we can't handle with bikes or walking. Moving forward we will be using trains and buses more over the summer, obviously as long as restrictions continue to ease, and we will probably use the car club for the odd journey.
Thinking about occasional Car use
We can use CoWheels car club for short term hire. Unfortunately there aren't any car club cars here big enough to fit all 6 of us in, but they will be useful for odd occasions when only some of us need to travel. I think if bigger car club cars had have been available here when we bought our last car (a 7 seater), then it would have swayed us over into not owning one, so I really think this could be key for other families too. We can also hire a car for longer periods such as a weekend/week away if it's not doable on public transport. My parents can put us on their insurance, and if they are over looking after some of the kids for us we could use their car if we needed to (for example going to collect a bulky item that wouldn't fit on our cargo bike).
Considering no longer owning a car?
I think this is quite a hard question, because I totally get that everyone's circumstances are different, and I can't say that what worked for us will work for everyone. We have deliberately and consciously built our lifestyle around the fact that we didn't want to be reliant on cars for daily life (work, school, shops etc.), but being dependent on a car isn't something you can change overnight if you already are. So small steps at a time are probably key for many families. If you are close to giving up a car, then have a think about what specific things are stopping you, and think about how you might be able to work on these. For us a major factor was how we would get out of town to rural locations as a family, and we still need to work on this having taken the leap to no car. Another idea is to make a spreadsheet of all the costs of a car that you've had to pay, every big thing like the cost of purchase to every little thing like parking too, for say a year. Then think about how you could spend that money on other forms of transport instead. A lot of the cost of a car is sunk into it at the start, but then we tend to forget the little things that add up over time.
Ruth Cummings has a Sewing Business and a blog about family life too. Her twitter handle is @Ruthcumming