Birmingham Friends of the Earth have a campaign about trees called "More trees please!" In this campaign BFOE want to see Birmingham double its tree cover from 18% to 36%. One of the asks that BFOE has made of the people of Birmingham is to tell the world what your favourite tree is via social media. I thought that I'd do this through my blog.
My favourite trees are a set of three trees that I walk past every day when I leave my house. I am fortunate to live on an estate where some of the houses are not directly on the road. When I look out of my windows I see greenery and trees. This helps lift my mood. My immediate surroundings are usually quiet and pleasant to be in. I can hear birds chirping away in the trees. Being in nature can help release stress and bring calmness.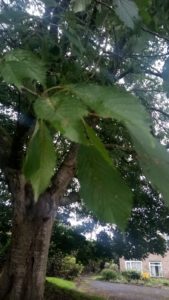 I don't know which species these trees are, but if you do then please let me know in the comments. One suggestion I've had is that it is an Ash Tree and another suggestion is that it is a Horse Chestnut Tree.
Also please tweet @bham_foe a photo of your favourite tree and what you like about it.