A new Destination in Longbridge Town Centre
Herbert's Yard is the new permanent installation for a food and drinks court in Longbridge Town Centre. Previously it was a pop up extension of Digbeth Dining Club. I'd not visited the pop up version but decided to visit Herbert's Yard as it now a long term fixture in Longbridge. As I live a 20 minute walk away I thought it would be good to check out. Firstly Longbridge Town Centre is an intimidating car driver dominated mess for pedestrians, but more on that later. I only visit Longbridge Town Centre to occasionally do a bit of shopping.  It's dominated by chains. I get in, buy some things and get out as quickly as possible, because it is an intimidating and unfriendly place to be as a pedestrian. Aside from The Cambridge and the Beefeater, which are decent pubs I sometimes go to there are no destinations. If I go and buy lunch from Greggs where can I sit and eat it? Can I sit on top of one of the cars blocking the pathways? The answer is no, meaning I don't spend time enjoying Longbridge Town Centre as a place to be for the sake of it. For that I have to abandon my local community and visit Stirchley.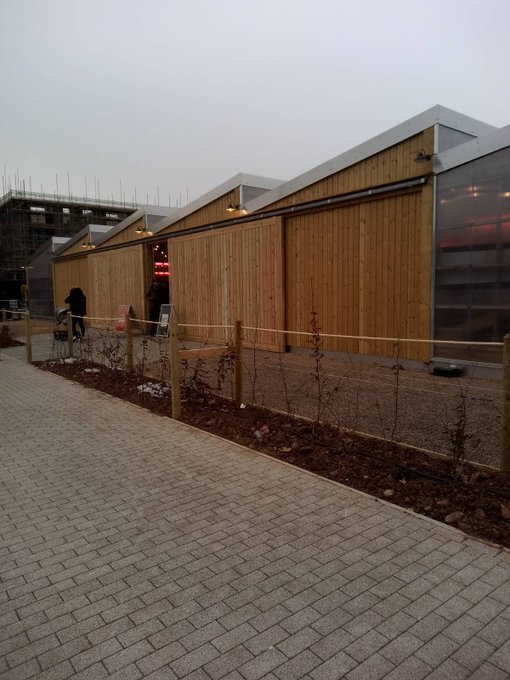 A community feel helping to support independent businesses
Herbert's Yard is by the main open air car park in Longbridge Town Centre. it is a mixture of wooden cladding and plastic in structure. It's fairly understated, making it easy to miss if you do not know what to look out for. I was welcomed inside by smiling security guards. Inside the main building is the seating area and two bars. One serving beer and the other serving spirits as well as a range of coffees. There are electric heaters hung above the tables to keep people warm. Behind the main structure is where you buy food. There are a variety of options in pop up vans selling different kinds of Street Food. This set up allows different food vendors to easily move in and out on different days. Whilst I was there you could buy; Greek, Indian Street Food, Vietnamese, Waffles plus quite a few other options. I'd decided to try out the Greek food and got a Halloumi Kebab with Fries. Inside I bought a non alcoholic beer and had a sit down to enjoy them.
What struck me most looking across the sitting area, was how much of a nice destination it is. Lots of people of all ages, many young families, some with dogs. It felt a world away from the car driver dominated mess outside. There are a wide number of options to cater for different tastes, and lots of small independent businesses to support. On tap there was a decent selection of beer. The most important thing for me a local resident, was that this felt like a welcoming place that I want to spend my time. It was incredibly nice to sit and enjoy my food, surrounded by families, and dogs who were also enjoying the space, whilst supporting local independent businesses.  I want to spend my time here and the longer I do, the more money I will spend. As I left I said thank you to the security guards and they thanked me in return. Herbert's Yard is a lovely and friendly venue to enjoy as a community space. I shall make a conscious effort to regularly visit. I may even try to entice some friends out of Stirchley to visit.
Herbert's Yard is open on Fridays, Saturdays and Sundays.